Meet our Current Board of Directors and others serving GLCKCSC
Photo coming soon
President – Brenda Bromley
Brenda is a retired RN who grew up on a farm in western Michigan, where animals were always the central part of life.  Her mom bred Boston Terriers so they always had dogs and puppies to love and train. Brenda fell in love with Cavaliers and began showing and breeding them in 2002.  Her mother Jean later partnered with her until she passed away in 2017.  Jean always loved her Bostons, but there were several things about them she would like to have changed. In her eyes the Cavaliers were perfect and she wouldn't change a thing. Faith,  the first champion Brenda bred, will be 15 this summer.  She is still the reining queen of the house, although she sleeps a lot more these days.  Brenda is also very proud of her Lenny, who was the #10 ranked AKC Champion Cavalier in 2014.
Brenda has been a member of the Great Lakes Cavalier Club since 2010, and has served as Vice President since 2013.
Vice President/ Breeder Referral / Web & Media  – Jennifer Lee
The Lee family inherited their first cavalier from a breeder friend years ago. Jennifer became interested in breeding and showing in AKC Conformation classes and found a mentor in Brenda. Jennifer joined the Great Lakes CKCSC Club in 2014. She began helping with flyers and graphic design related projects within the club. She has made many wonderful friends within the Great Lakes CKCS Club. In 2014 the Lee family became a foster home for Cavalier Rescue USA. In 2015, Jennifer was blessed with the opportunity to combine her love of cavaliers, photography & design and began to reconstruct the Great Lakes CKCSC website that was launched in 2016. In 2017 she began serving as the club Secretary, and continues to serve as the Breeder Referral and Webmistress.
Corresponding Secretary – Carol Lynn Johnson
Recording Secretary – Amy McBain
Treasurer – Deb  Hedges


Membership Chair – Teresa Silva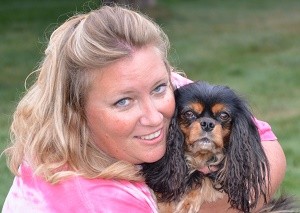 Director – Kari Selinger
Kari Selinger was clinically trained as an Athletic Trainer specializing in Aquatic Therapy following college at Central Michigan. Having been raised with German Shepherds and other large breed dogs, it was in 1997 when Kari began her dog training business that Cavaliers entered her life. She made dog training her full time career in 2002 with a focus on behavior issues and performance. Professionally she is a member of the National Association of Dog Obedience Instructors, Certified Agility Instructor, founding member of German Shepherd Rescue of MI, and active foster home for Cavalier King Charles Spaniels.
Personally Kari has put advanced performance titles in agility, obedience, rally, tracking and Schutzhund on more then 15 German Shepherds and Cavalier King Charles Spaniels. Currently home to six CKCS. Among them is Trinket, AKC's Top MACH dog for 2013, the first and only Cavalier to earn the award. Trinket was also a finalist at the 2014 AKC Agility Nationals and Agility Invitationals. Kari is the proud mother to a high school son Clayton and has been with her husband Chuck for over 25 years. She lives and trains at her home in Ceresco with her six Cavalier King Charles Spaniels and three German Shepherd Dogs.
Director – Joyce Quinlan
Joyce Quinlan has always had a passion for animals.  As a young girl, she would rescue ducks from freezing in the ice on Lake St. Clair.  Her family started raising Labradors for Leader Dogs for the blind school in 1996.  They have whelped and raised over 50 puppies for the school, which has been a very rewarding experience.
She met her first Cavalier in 2003 and became instantly in love with the breed.  Her first Cavalier is twelve years old now and is still the life of the household.  She enjoys conformation, rally and therapy visits with her dogs.  To date she has four AKC Champions.
Her husband of 36 years also shares in her passion of animals.  They live on a horse farm and have foaled thirteen Missouri Fox Trotters.  They enjoy camping and trail riding across the U.S.A.
She was a 4-H Youth leader and coached her children's drill team and equestrian team.  The drill team performed at Equitana and the Michigan State Fair yearly.   They also volunteered their horses for Community Mental Health and Handicapped Riders.
She is proud to have raised three beautiful daughters and enjoys their four grandchildren that share in the love for animals.
Having always enjoyed art and working with her hands she is a dental ceramist making crowns and veneers since 1975.  She is the founder of White Dove Concessions serving a Mexican menu at fairs and festivals during the summer months.